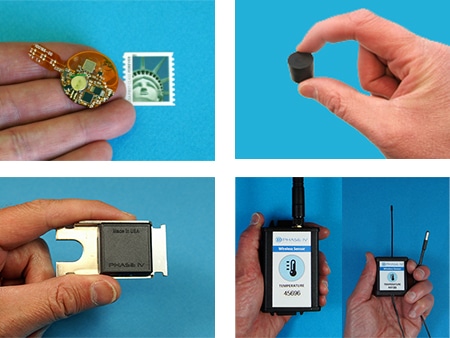 We Have Your Wireless Temperature Sensor
From practical & off-the-shelf to cutting edge & custom, nobody offers more wireless temperature monitoring sensors than Phase IV Engineering.
RFID, Passive, Active, BAP….Confused? We're not – we've worked with all types of sensors & can guide you to the best solution for your application. If it's not available off-the-shelf, we can design a custom temp sensor that will meet your needs.

A wide range of capabilities: from ultra-miniature to credit card-sized, and sensors designed for extreme temperature, both low  and high.

We've been in the wireless sensor business for over 20 years – we have the experience to help you choose the wireless temperature sensor that meets your needs – AND the staying power to support you in the future.
Contact Us
Talk to an Expert
Questions about Phase IV Engineering's RFID & wireless sensor technology? Need a quote for a specialized wireless sensor solution? Talk to one of our wireless sensing experts today.
Contact Us