Aerospace: Aircraft RFID Wireless Tire Pressure and Temperature Monitoring
SmartStem RFID Wireless Pressure and Temperature Sensor Video Demo
Phase IV and Crane Aerospace & Electronics (CAE) have worked together to develop a battery-free passive RFID wireless sensing device, the SensIC™. Crane Aerospace has integrated this device into their SmartStem® product. SmartStem is a wireless pressure and temperature sensor built into an airplane tire's inflation stem that makes the daily tire pressure check quick, easy, accurate, and automatically documented. The SmartStem® flies as standard equipment on every Boeing 777 and 787.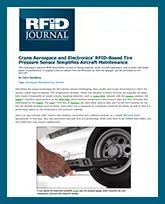 Featured in RFID Journal.
The Problem
It takes approximately one hour using a manual tire pressure gauge to check the tire pressure on a wide-body aircraft with many wheels. Manual measurements mean high annual maintenance costs and measurements that are not always accurate, causing under-inflated tires which can lead to increased tire wear and shortened tire life.
The Solution
The SmartStem®, consists of wireless tire pressure and temperature sensors embedded in an aircraft's tire inflation valve stem. These special tire inflation valve stems communicate tire pressure, temperature and other information to the cockpit, or to a handheld reader. The technology used is the Phase IV-developed passive SensIC™ RFID ASIC (Application Specific Integrated Circuit). This tiny ASIC measures temperature internally and can interface with many different sensor types such as pressure, strain, load, and more, and lends itself to be used in many diverse applications.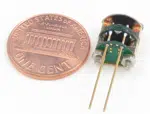 The ASIC in the SmartStem®, when interrogated by a reader, measures temperature and pressure data and then transmits this data back to the reader. (Shown left is the ASIC multi-chip module with three independent channels). SmartStem® has been selected for the latest Onboard Tire and Brake Monitoring System (TBMS) for current production Boeing aircraft. This technology is passive, obtaining its operating power from an external reader or interrogator. When the reader is close to the coil attached to the ASIC, the circuit uses the reader's signal to power measurement and communication of identification or sensor information.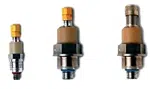 The advantage to this system is that there are no batteries, power sources, or wires. SmartStem® is an integral part of the Crane Aerospace & Electronics' brake control system that is now operational in the Boeing 777. It has also been designed into the new Boeing 787. For SmartStem applications that are not integrated into the plane, and for smaller planes manufactured by companies like Cessna, Phase IV developed a handheld reader for Crane Aerospace.
The Benefits
A reading takes less than 3 seconds, resulting in reduced maintenance costs. Three independent channels automatically sense the temperature and pressure for high accuracy and reliability, reducing human error and risk. The FAA-certified ASIC is wireless, battery-free and extremely rugged. Data includes date and time-stamped of readings which means improved record-keeping for maintenance, warranty and safety information . Data records from the handheld reader can be uploaded to PC for maintenance tracking via USB, Bluetooth®, or Wi-Fi®. SmartStem is a registered trademark of Crane Aerospace & Electronics. SensIC is a trademark of Phase IV Engineering, Inc.
Contact Us
Talk to an Expert
Questions about Phase IV Engineering's RFID & wireless sensor technology? Need a quote for a specialized wireless sensor solution? Talk to one of our wireless sensing experts today.
Contact Us