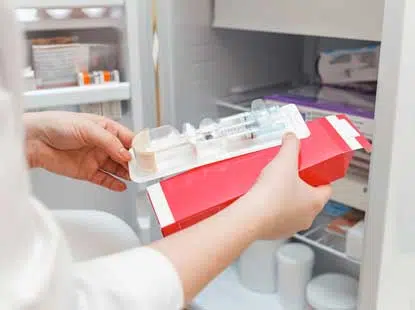 Reliable, automated temperature monitoring for medical refrigerators & freezers.
The Leap Sensors® wireless sensor system's advanced design streamlines tracking & reporting with the features you need. Get alerts before an issue arises. Simple 5-minute installation.
Maintaining vaccines, medicines, and lab samples at the correct temperature is crucial for patients' well-being, not to mention the cost of having to throw out critical and often expensive supplies. CDC guidelines require tracking & recording the storage temperature of these materials, but this can be a burden to already busy staff.
A Leap Sensors temperature data logging system is a practical, cost-effective way to monitor temperature in refrigerators and freezers, including ultra-low temperature freezers, in hospitals, pharmacies, and medical offices. Get increased reliability, eliminate manual reporting, and receive immediate alerts to potential problems. The all-in-one system makes it easy to integrate different types of sensors such as differential pressure and humidity as well. Our wireless sensor experts can help you build a system that meets your exact needs.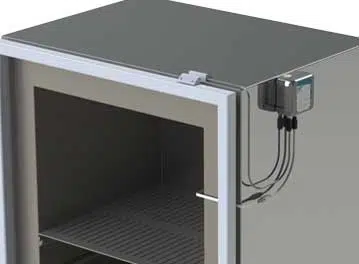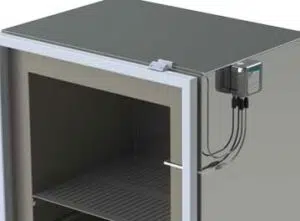 Refrigerator/Freezer temp sensor transceiver node with optional open door sensor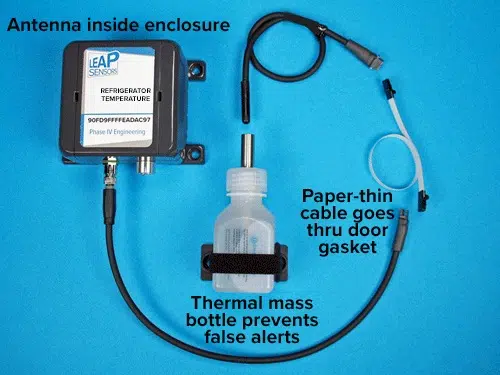 Easy configurability – set the temperature range, sample interval, and alert type that works for you.


Opt to receive alerts via text, email, phone


Buffered temperature probe and weighted average alert setting (optional) smooth out spikes to reduce alarm fatigue.


Time-stamped data logging exports to .csv file. No more manual recording & reporting.

Data integrates easily to existing monitoring software, if needed.


Ultra-thin connection between probe & transceiver maintains gasket seal integrity & reduce frost buildup.