A Giant Leap in Wireless Sensors for the IoT
Cutting-edge technology - Easy installation - IoT & smart device-ready
IoT Protocol with "Gold Standard" Data Security
Data "Any Way You Want It"
Wide Range of Sensors Ready to Install
Standardized IP protocols mean your information is protected by the same systems bank use.
Highly adaptable gateway. We use your protocol or our API to quickly integrate with your existing software. Or, use our cloud-based program. Direct-to-cellular sensor options also available.
We carry a wide range of common sensors that fit most industrial & commercial applications, including a multi-sensor motor monitor.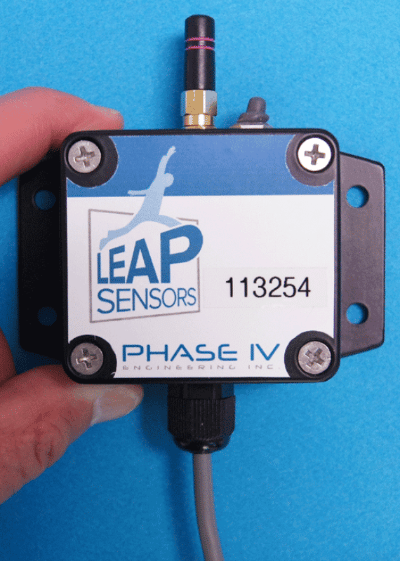 What Makes the Leap Sensors® System So Advanced?
Simple: Better design gives you better data, so you can make better decisions.
Put our experience to work for you: the breakthrough Leap Sensors wireless sensor network system is designed with the same features clients such as NASA, the US Army, and Fortune 500 companies including Campbell's Soup & Dassault Falcon have requested – at an accessible cost.
Make the Leap to the IoT – talk to our experts today!
Do you have a wireless sensor network system that's "off-the-shelf" and will have a quick ROI?
Yes we do. Whether you need a simple system or a quick proof-of-concept, Leap Sensors make it easy to connect to the Industrial IoT.
Every type of sensor: temperature, vibration, strain, & more.

Be up & running in 5 minutes – our sensors arrive pre-configured so installation is simple and stress-free.

Get better process control, failure prevention, safety improvement, automated auditing.
Get "X-ray glasses" for your critical equipment & processes. See all our ready-to-install sensors & get a quote today.
Get the eBook on Wireless Sensors for the Industrial Internet of Things  (IIoT)
Read our free eBook on how advances in wireless sensor technology have had a disruptive effect on industrial sensing, and how to make it work for your company.
Can you configure an unusual wireless sensor and software that can do ________?
Problem solved – We put 25 years of custom sensor design experience into the Leap Sensors system.
Leap Sensors is the first system designed from the ground up to be easily configurable, saving time and money.

New sensors add themselves to the software with no software update needed. Keep your life simple.

Breakthrough universal multi-sensor design means one sensor node transmitter supports multiple sensors – cost-effective, easy installation, ability to measure multiple things in one area.

Configurable options include: sensor types, enclosure, gateway, software, radio & antenna.

On-board sensor warning lights and sensor node reading displays available.
Leap Sensors make it easy to get a system that works for your exact needs – talk to our experts!
Can a "non-technical type" install the sensors and software?
Yes – Leap Sensors are ready to install. Be up & running in 5 minutes.
Sensors are pre-configured and tested at the factory: We know it will be fast to install – because we verified that before it shipped.

Upon installation, the sensors will "talk" to your software – no complicated set-up or updates to download.

Secure magnet mount option available – really streamline your installation by just dropping the sensor in place.
No one likes to spend forever trying to figure out a new system. Get a Leap Sensors wireless sensor network for smooth OT-IT integration.
How Does a Wireless Sensor Network for the Industrial Internet of Things (IIoT) Work?
Watch the demo videos: our CEO, Scott Dalgleish, gives an overview of how the Leap Sensors system works. Then see him demonstrate the easy 5-minute installation of our wireless sensor network.
What about tough operating conditions? I need something reliable & low-maintenance, no matter what.
Yes! Leap Sensors can help you "see" in places where monitoring was previously impossible: moving parts, embedded inside something, high temperature, etc.
Leap wireless temperature sensors have the widest operating temperature range of any available wireless sensor: -40C to 120C (-40F to 250F). Can be extended with special enclosures.

Rugged standard enclosure designed for industrial environments. IP67 enclosures available, as well as a miniature form factor (1 square inch with internal antenna option).

Optimized radio protocol & transmission: DSSS modulation makes transmission immune to interference. Digital data with CRC error checking creates a network similar to a mesh network but much simpler.

Our patent-pending advanced low-power electronic design means our sensors are "practically battery-free™" – batteries can last for many years.

Modular hardware & firmware means painless updates and a long life-cycle.
Leap is THE system designed from the ground up to meet the specific, challenging needs of industrial & commercial users. Talk to our experts today!
I need a wireless data logger sensor. Can the sensor store readings on the sensor transmitter node if it isn't near a gateway/receiver?
All Leap wireless sensors can act as data loggers as a side benefit of our high-reliability design. Track critical processes even when wires or radio signals aren't possible.
Measure anything you need – all Leap sensors have data logging capability built-in.

Configurable sampling intervals that work for your needs.

Timestamped data is automatically downloaded when the sensor node moves in-range of a gateway.

10,000 readings can be stored on the sensor node.
Need to monitor something where wires or radio signals aren't practical? Leap Sensors wireless data loggers can do it.

Can you connect multiple sensors (of different types) to one transceiver node?
Yes! Leap's sensor transceiver nodes are designed to support multiple sensors of different types. 9+ sensors per node possible.
Monitor several sensors at one location on a machine.

Wide range of sensors available – almost anything you want to track.

Multiple sensors per sensor node is more cost-efficient.
Monitor several sensors in one location, gain efficiency & insight with our multi-sensor transceiver nodes.
Is the data secure enough to convince my IT department?
We take your data security seriously. Leap wireless sensors use the same security methods used by banks to encrypt their transactions.
Multi-layered Thread network security using AES-128 data encryption starting with a Password Authenticated Key Exchange (PAKE) and DTLS internet security.

Unencrypted data is never transmitted over the air – all encryption is done at the sensor.

Data stays encrypted as it passes through the gateway and until it reaches the final database.

In addition, the Leap Sensors system can easily be installed on a company's server, behind a firewall.
Best available data security that is easy to keep updated. Get your Leap Sensor System today!

Get the eBook on Wireless Sensors for the Industrial Internet of Things  (IIoT)
Read our free eBook on how advances in wireless sensor technology have had a disruptive effect on industrial sensing, and how to make it work for your company.
What am I supposed to do with all this data?
We've leveraged edge-computing capabilities so you only receive the data  you need.
Our high-performance microprocessor crunches the data at the sensor level and only transmits what the user actually needs.

Sensors can be sampled at 5kHz. An FFT algorithm on the sensor node processes the thousands of data points to send actionable alerts.

You control the data you receive – generate ONLY credible alerts starting on day 1. And you can reconfigure as you gain more insight.

Configure HOW you receive alerts: via text, email, phone.

Plus – the less data transmitted, the longer the battery lasts.
The Leap Sensor system delivers actionable data – not "big data". Gain new insight into critical process for more efficient operations.
Can I interface the Leap system to my existing software or PLC?
Yes –while we do offer cloud-based monitoring software, we've designed the Leap system to quickly & effectively integrate with legacy software or PLC systems.
Flexible gateway and API is programmable to support practically any interface available, greatly simplifying integration to your existing IT infrastructure.

Keep data "in-house" and behind your company's firewall.

Direct-to-cellular is also an option.

Or – the Leap SensorManager cloud-based software is also an available option.
Easily take control of how your sensor data is managed with data delivery "any way you want it".