A Giant Leap in Wireless Sensors for the IoT
Cutting-edge technology - Easy installation - IoT & smart device-ready
High Temperature Operation up to 120C (250F)
Data "Any Way You Want It"
Wide Range of Sensors Ready to Install
The only wireless sensor with electronics and battery rated to operate in high-heat environments.
Highly adaptable gateway. We use your protocol or our API to quickly integrate with your existing software. Or, use our cloud-based program. Direct-to-cellular sensor options also available.
We carry a wide range of common sensors that fit most industrial & commercial applications, including a multi-sensor motor monitor.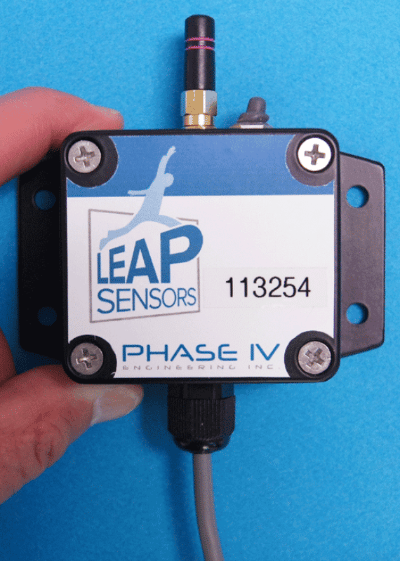 The World's Most Adaptable Industrial IoT Wireless Sensor Network
Phase IV has taken its 25 years of designing complex wireless sensor systems for NASA, the US Army, and many Fortune 500 clients, and created a breakthrough sensor platform that makes it easy for small & mid-sized companies to make the leap to the Internet of Things.

Fast, inexpensive proof of concept.

Highly adaptable gateway to deliver data "any way you want it".

Designed for industrial applications.

High-temperature operation up to 120C (250F).

Trusted, standard secure protocol.

Adaptable to almost any sensor – multiple sensors per module keep the total system cost low.

Data logger mode – up to 10,000 time-stamped readings on board the sensor.

Direct-to-cellular sensor options when gateways are not practical.
3 Steps to Your Leap Wireless Sensor System
Contact Us
Talk to an Expert
Questions about Phase IV Engineering's RFID & wireless sensor technology? Need a quote for a specialized wireless sensor solution? Talk to one of our wireless sensing experts today.
Contact Us
OVER 20 SENSORS AVAILABLE –


WE HAVE YOUR WIRELESS SENSOR
Wireless temperature sensor

Wireless vibration sensor

Wireless accelerometer sensor
Wireless thermocouple sensor

Wireless amp clamp sensor
Wireless fluid level sensor

Wireless pulse counter sensor

And more – custom sensors available