Wireless, Battery-Free RFID Sensors for Rotating Equipment
RFID Wireless Sensors in Rotating Equipment Video Demo
Skip ahead to these video segments:
0:05 Using RFID sensors in SPINNING AND ROTATING applications
1:06 NASA's UNIQUE PROBLEM with the SPACE STATION
1:38 SOLVING this PROBLEM in the SPACE STATION
3:49 PHASE IV'S INNOVATIVE SOLUTION to solve this PROBLEM
6:42 UHF RFID sensors in INDUSTRIAL applications
7:48 DEVELOPMENT PROCESS at PHASE IV
9:22 PRODUCT PHASE and FINAL SENSOR
10:31 In Summary..
Winner, "Most Innovative Use of RFID" – RFID Journal Live Trade Show: Phase IV's worked with the NASA Marshall Space Flight Center to solve a major problem with the Urine Processing Assembly (UPA) to convert urine back to drinkable water at the International Space Station. Read the article.


 About Wireless RFID Sensors in Rotating Equipment
Breakthrough advance for NASA's water reclamation on International Space Station now available to use on rotating equipment in industrial settings.

Wireless, battery-free, RFID sensors means no batteries to change and no hazard of wires or cables getting caught in machinery.

UHF technology makes it possible for sensors can be mounted on metal machinery.

Antennae in multiple locations increase readability of RF signal.

Epoxy encapsulation material protects sensor for harsh or corrosive liquids.

Configurable to measure strain, pressure, weight, temperature, voltage, torque and other critical indicators for better predictive maintenance.
Rotating equipment is among the most vital pieces of equipment in many industries, including food processing, mining, railroads and transport, wind turbines, and medical equipment. They can also be the most susceptible to failure. Phase IV's UHF RFID sensors make it possible to help these industries and more.
Transportation: cars, trucks, locomotives
NASA's Water Summary
An astronaut consumes 28 million amounts of water during a year long stint on the station.

To conserve water, the International Space Station (ISS) reclaims drinking water from the astronauts' urine, which is processed & purified through the Urine Processor Assembly (UPA).

The distillation assembly works as a key size unit at the heart of the UPA, distilling water from urine, which then passes into the device from the station's toilet.

Astronauts have tested the water and say it tastes no different than regular water.
NASA's Problem
NASA spends 40,000 dollars to ship a 2 liter bottle to the station.

The UPA (Urine Processor Assembly) reclaims 75 percent of water from urine saves NASA roughly millions of dollars annually, which will eventually increase to 85 percent this year.
How to make the UPA even more efficient/Phase IV?
Engineers would place temperature sensors inside the unit, where the spinning inner drum, high temperatures, near vacuum and caustic liquids would destroy ordinary temperature probes.

This was a very difficult challenge that NASA wasn't able to do by themselves.

In October 2014, NASA engineers met these challenges with the help of Phase IV Engineering, RFID and Wireless, and began collecting date from a test they need from a test DA at Marshall.
What is the solution/what did NASA need?
The solution involves resin-encased passive RFID sensor tags attached to the device's titanium inners, custom designed antennas and external readers.

"NASA needed a developer who could not only provide the hardware but also design, manufacture and install a complete sensing system that could be integrated into our setup". –Christopher Evans
What was Phase IV's solution to the request for quotation?
Phase IV's solution to NASA's need was they constructed a mockup of the DA out of sheet metal, and documented the process of rigging up RFID tags to demonstrate that the tags could be read even as they passed out of the line of sigh of external readers.

"This is the way we operate"- Phase IV CEO, Scott Dalgeish.

Phase IV would use an inexpensive proof of concept test first so that they could agree with there client because this is the way 80 percent of Phase IV's projects start this way.
Phase IV's customization and design of the solution
Once Phase IV was picked by NASA in May of 2014 to customize and design the solution they came up with a very unique way of solving this problem.

They designed a solution that included eight passive ultrahigh-frequency RFID sensor metal mount tags, produced by their company.

To be effective, the tags had to be mounted to both the inside and outside of the DA's interior drum, therefore four tags would be affixed to each surface.

An epoxy encapsulating material was molded to the surfaces of the drum to protect it from sulfuric acid.
Phase IV's customization of the antennas
Phase IV custom designed antennas to be placed both inside and outside the DA to read the sensor tags.

One antenna was running through the stationary shaft in the inner drum and one on the outside of the outer drum.
How to read the tag?
Phase IV's CEO, Scott Dalgeish says,

In order to read the tag, we actually have to bounce the radio energy between those two drums.

Phase IV was using UHF metal mount antennas that especially tuned to the titanium drum.

This was a new strategy as in the past RFID sensing was just done at low frequency and high frequency and those fields are magnetically coupled.
Phase IV's and NASA's end result
"Adding RFID enabled temperature probes to the DA cost NASA 100,000 or the cost to send less than two gallons of water to the International Space Station". -Christopher Evans, NASA

There's potential to save much more in launch costs over the remaining life of the space station, which is projected to remain operational till 2024.

"NASA was thrilled"-Phase IV's CEO, Scott Dalgeish.

Chistopher Evans says, "the new sensors have already given is the first-ever temperature measurements from parts of the UPA that were previously considered inaccessible.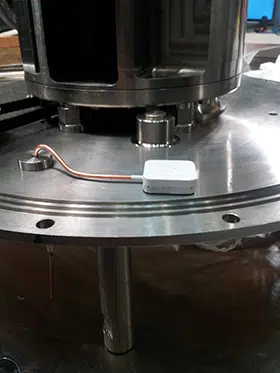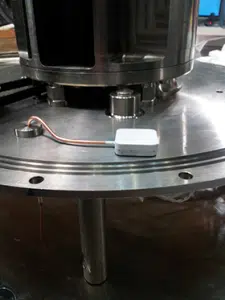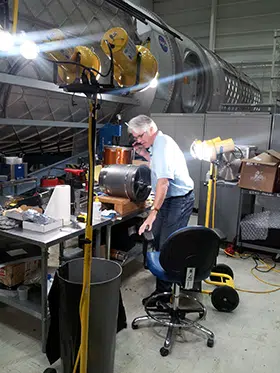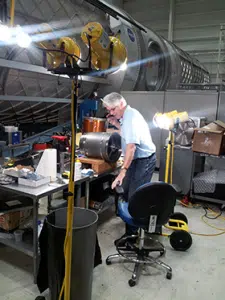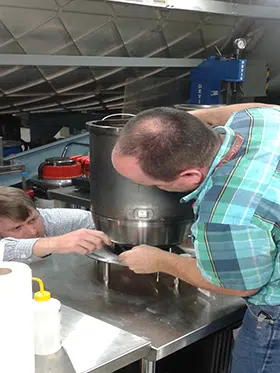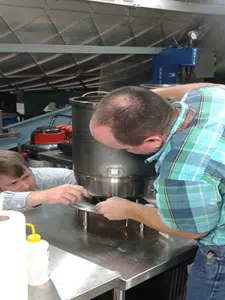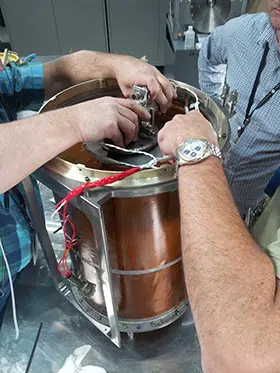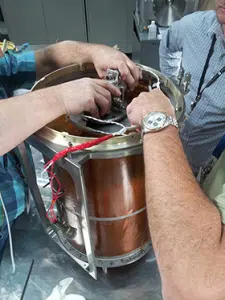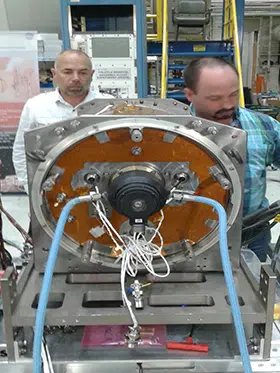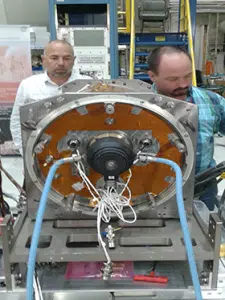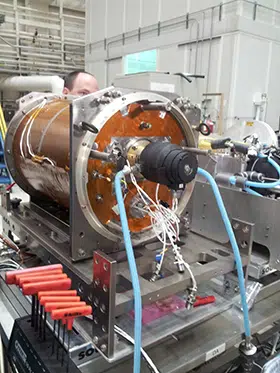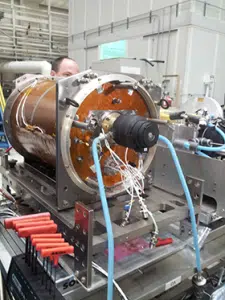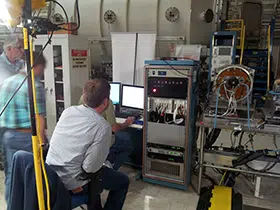 Contact Us
Talk to an Expert
Questions about Phase IV Engineering's RFID & wireless sensor technology? Need a quote for a specialized wireless sensor solution? Talk to one of our wireless sensing experts today.
Contact Us