Wireless Sensor Products
We have your wireless sensor solution. See our wide range of wireless sensors designed specifically for industrial & commercial applications. Let us connect you to the Industrial IoT.
Specialized Wireless Sensors
Most Popular Wireless Sensors
Gateways and Software
Custom Wireless Sensor Design
RFID Wireless Sensors
Our Most Popular Wireless Sensors & Data Loggers

Wireless Temperature Sensors
See our full range of sensors for remote monitoring of temperature. Extreme high-temp and low-temp solutions.

Wireless Motor Monitoring Sensors
The go-to sensor for industrial applications. Monitor the top 3 indicators of failure: temperature, vibration, electrical current.

Wireless Humidity Sensors
Accurately monitor humidity or dew point. These sensors also measure temperature.

Wireless Pressure Sensors
Monitor compressed air pressure, water pressure, etc. Integrates with all types of industrial pressure transducers.

Wireless Vibration Sensors
Monitor maximum & average g-force trends on all 3 axes. Easily modified to also measure shock and tilt.

Wireless Strain Sensors / Wireless Load Sensors
Monitor strain or load with this highly adaptable sensor. Let us configure to fit your specific needs.

Wireless 4-20 mA Sensor Nodes
Easily turn almost any industrial sensor that has a 4-20 mA output into a wireless sensor.

Production Line Counter & Line Downtime Sensor
Groundbreaking sensor counts and timestamps items on a conveyor, using the time intervals to monitor downtime.
About the Leap Sensors® System for the Industrial IoT
Better Design – Better Data – Better Decisions
Our breakthrough Leap Sensors system is designed specifically to meet the needs of industrial & commercial clients. With its modular design, the Leap Sensors system is easy to configure, install, and keep updated. "Bank Standard" security protocol protects your data from the sensor to the software. Get actionable data you can use to prevent failures & improve performance of your key processes.
Wireless Sensors for Specialized Applications

Wireless Refrigerator / Freezer Sensors
Highly accurate & easy to install. Monitor commercial refrigerators and freezers with text & phone alerts.

Wireless Silicon Wafer Sensor
Highly accurate & extremely thin (less than 5mm), Attaches to the top of a silicon wafer for fab process monitoring.

Wireless Low Differential Pressure Sensor
Continuously monitors low pressures between two locations. Ideal for clean rooms, exhaust hoods, etc.
See All Sensors
See the Full Line of Leap Wireless Sensors
With its modular design & multi-sensor transceiver node capability, the Leap Sensors system can monitor almost anything. Gain insight into critical processes and get advance notice of possible failure.
See All Sensors
More Leap Wireless Sensors

9 RTD Wireless Temperature Sensors
Wireless transceiver node that supports up to 9 ultra-small, high-accuracy RTD temperature sensors.

Wireless Water Sensors / Wireless Flood Sensors
Detect liquid levels in a container or tank. Or use the LeakSense "rope" over a wide surface area.

Wireless Electric Current Sensors (Amp Clamp)
Easily installs on existing equipment. Monitor power usage and detect surges that may indicate failure.

I2C or SPI Digital Output Wireless Sensors
Convert any standard I2C or SPI sensor to a wireless sensor. No power source needed.

Universal Wireless Multi-Sensor Node
Breakthrough design makes it easy to add several sensors to one transceiver node.
Custom Wireless Sensors
Leverage our 25 years of experience on the leading edge of wireless sensor design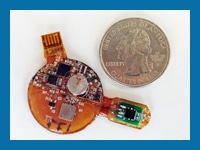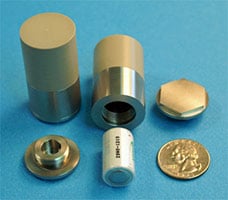 Many Fortune 500 companies, from Crane Aerospace to Campbell's Soups, trust us to do their complex wireless sensor R&D and innovation – you can, too.

We invented RFID sensors, and we're the world's leader in RFID sensor design.

Our breakthrough Leap Sensors system is designed to be leveraged for a fast, inexpensive proof-of-concept.
Wireless & battery-free. Long-life, miniature, ideal for harsh conditions. We pioneered the use of wireless RFID sensors. Let our expertise work for you.

LF RFID Temperature & Pressure Sensor for Composite Material
Ultra-miniature, ideal for embedding in composite materials to monitor temperature & pressure.

UHF RFID Wireless Temperature Sensors
Battery-free wireless sensors to monitor temperature. Wide operating range for harsh conditions. Small form factor.
Contact Us
Talk to an Expert
Questions about Phase IV Engineering's wireless sensor technology? Need a quote for a wireless sensor solution? Talk to one of our wireless sensing experts today.
Contact Us