Join the Sensors Magazine Sensor Engineering Team of the Year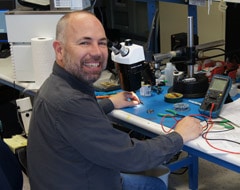 Open Positions
Senior Electrical Assembly Prototype Technician
Phase IV is seeking a full-time senior electrical assembly technician that has advanced soldering and electrical assembly skills. Duties range from building engineering prototypes to electrical assembly production work. The advanced skills that we require include:
Hand-soldering electronic components down to 0204 size.
Stenciling and hand-placing components for prototype circuit board assembly using prototype volume reflow processes.
Building boards from bill of materials and schematics — without assembly instructions.
Adding wire modifications to circuit boards.
Difficult part removal and replacement from circuit boards — including BGAs.
The job requires working closely with the engineering team that are developing new products. The majority of the work is building or repairing one or two boards at a time. Help with production work, mechanical assembly, and testing (in volumes of 100s) is also required at times.
You will be working on state of the art electrical designs with a talented and easy-to-work with staff. Compensation based on experience. Contact Us.
Learn More about Phase IV Engineering