When we designed the Leap Sensor wireless sensor system, we based it on our 30 years of experience working with Fortune 500 clients on their most challenging wireless sensor projects. We've learned a thing or two about what industrial and commercial users really need, and because of that, the Leap Sensors system has features no one else does. Drum roll, please, because here's a countdown of the Top Ten: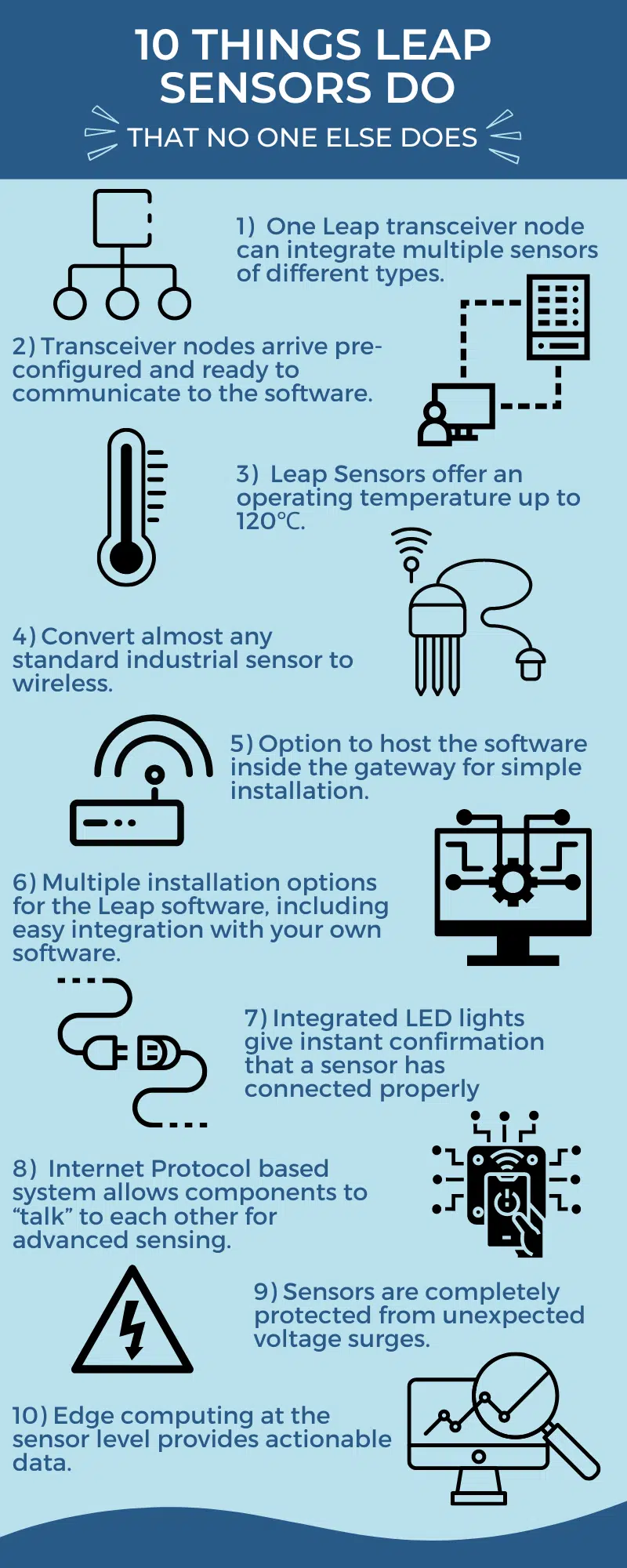 1. One Leap transceiver node can integrate multiple sensors of different types.
This makes the system much more cost-effective, and you can monitor multiple indicators on one piece of equipment. For example, our wireless motor sensor monitors temperature, vibration, and electrical current – the 3 main predictors of motor failure.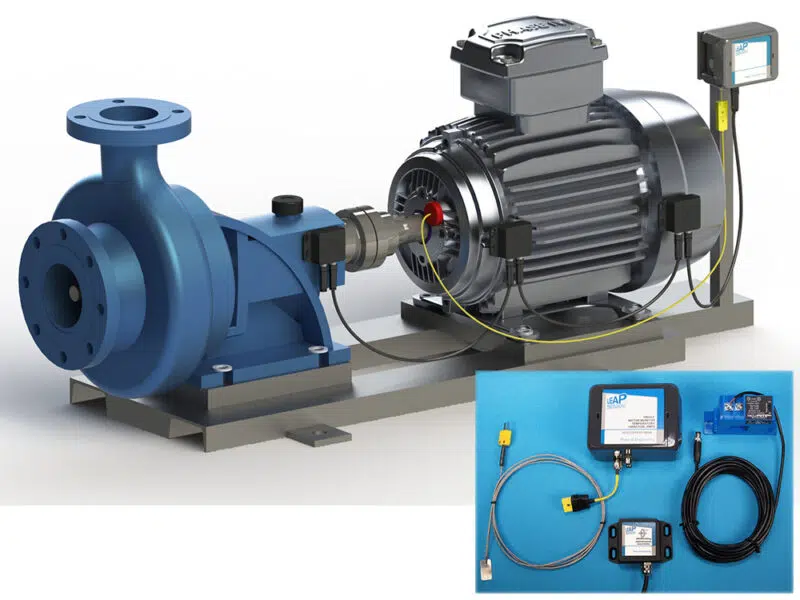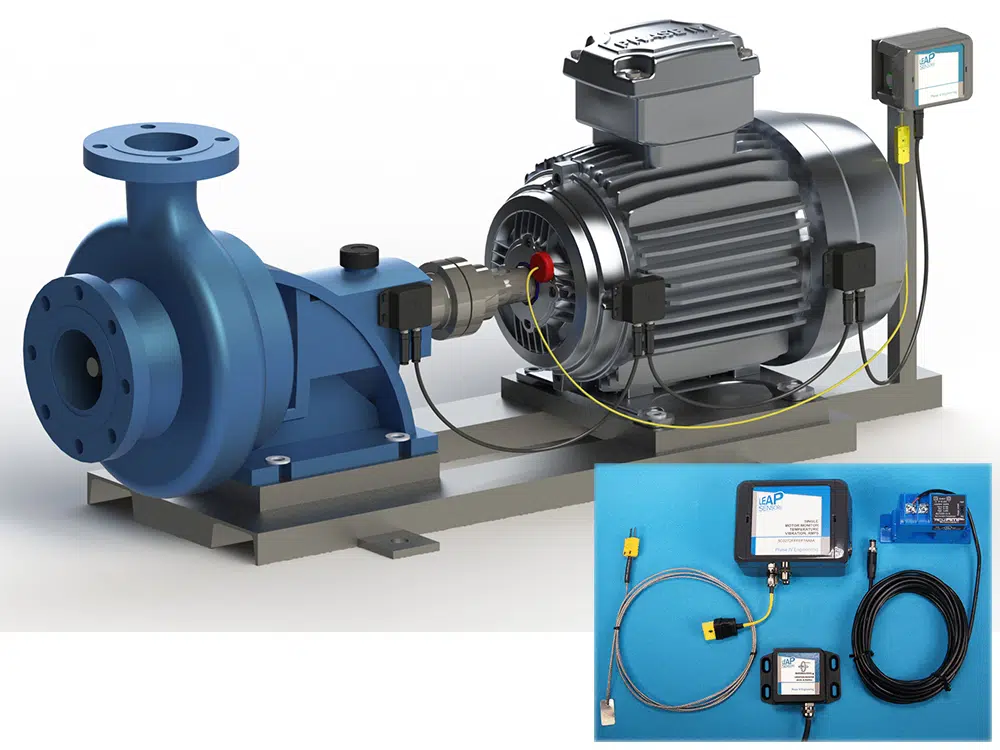 2. Transceiver nodes arrive preconfigured.
We preconfigure the transceiver nodes at the factory so that they are ready to communicate to the software to automatically update it upon connection. Streamline your system installation process and keep it future-proof when you decide to add more sensors.
3. High-temperature monitoring options.

Leap Sensors offer a 120℃ (248F) operating temperature option so you can still get vital remote monitoring you need even in high heat industrial settings.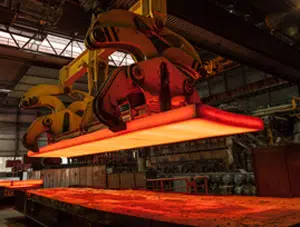 4. The ability to convert almost any standard industrial sensor to wireless.
For the ultimate in adaptability, Leap offers a transceiver node that can convert almost any standard industrial wired sensor (such as 4-20mA, 0-10V, or RS485 Modbus) to battery powered and wireless. Easily add the monitoring you need to critical equipment without the hassle of finding a new sensor.
5.  Option to host the software inside the gateway.
No need to install software, and the entire system is self-contained & secure. Ideal for a proof-of-concept or a small deployment.
6. Multiple installation options for the Leap software
.
Speaking of software, there are multiple installation options for the Leap software: on the gateway, on a PC, on a local server, in the Cloud (either via Leap or a private Cloud), Windows or Linux, and more. Choose what works for you – and it's easy to switch as your needs change.
7. Integrated bicolor LED indicates the wireless connection status.

Every transceiver node comes integrated with a bicolor LED to indicate the status of the wireless connection at power-up. Different color patterns can also indicate information about the status of the data transfer from the transceiver node.
8. Advanced IP-based system for sophisticated sensing and data-passing.

Internet Protocol-based system allows each sensor transceiver node to communicate with other nodes in the system. This makes the system easy to set up, modify, and update. It also enables advanced sensing such as completely wireless differential temperature or pressure monitoring. Passing data to other software is a breeze.
 9. Keep your sensor electronics safe from unexpected voltage surges.
 We designed our transceiver nodes so that each sensor circuit is completely electrically isolated to protect them from ground loops and voltage spikes common in an industrial plant.  
 10. Get actionable data, not "Big Data."

Sensors can generate lots of data that can be overwhelming. Microprocessors in the Leap transceiver nodes employ edge computing, so you receive the important data and alerts you need to make decisions. On the other hand, if you do need full sensor readings for deeper analysis, such as FFT vibration, we offer a bulk over-the-air data download option.

Maybe you've felt like a wireless sensor system just too unreliable, or too limited, or too complicated to work for your business. Our team of experts built the Leap Sensors system for you. It's a simple and effective way to add remote monitoring to your existing equipment. Learn more about the breakthrough Leap Sensors system.