About Wireless Strain Gages (Strain Gauges)
UHF – RFID – Battery-Free – Ideal for Structural Health Monitoring
Wireless Strain Gage Demo Video
Skip ahead to these video segments:
0:00 Introduction
0:40 Strain Sensors in Structural Health Monitoring (SHM)
1:30 Example Project – North Gate Tunnel
2:00 Breakthroughs in Wireless Battery-Free Strain Sensing
2:36 Example Application – Instrumented Concrete Rebar
4:15 RFID Data Logging
5:40 Embedded "Read Now" Strain Sensing
7:00 Rapid Installation
7:30 RFID Strain Sensor Precision
8:40 RFID Reader Backpack for Field Use
9:50 DEMONSTRATION
12:30 Temperature Compensating
About Wireless Strain Gages – Breakthrough IoT Technology
Wireless monitoring of strain, stress, shear, or load using a standard RFID reader. Strain gage instrumentation using Phase IV's strain sensors can be inexpensively installed in extreme environments that were previously too difficult to monitor. Monitor strain in prestressed concrete, asphalt, more. Ideal solution for structural health monitoring of tunnels, bridges, drainage pipes, silos, water tanks, roads, and other infrastructure.
RFID strain gage sensors need no wires or batteries = no maintenance and long life.

Can be

read through materials that typically cover structural components (concrete, asphalt, rebar), with read range up to several meters on a metal-mount sensor.


Strain resolution better than 15 u-strain using a standard +/-1000 u-strain sensor.

Sensors can be installed & calibrated on-site.

Use on-board temperature sensor for strain gage temperature compensation, if needed.

Data-logging capability – track and compare for predictive maintenance.

Each wireless strain gage sensor has a unique ID# so that many sensors can be read by one reader at the same time.

Patents pending.

Quickly & easily monitor with a standard RFID reader – standard RFID protocol.

More details on our Data Sheet.
See our case study on how Phase IV's wireless RFID strain sensors help monitor the Northgate light-rail tunnel in Seattle.
Contact Us
Talk to an Expert
Questions about Phase IV Engineering's RFID & wireless sensor technology? Need a quote for a specialized wireless sensor solution? Talk to one of our wireless sensing experts today.
Contact Us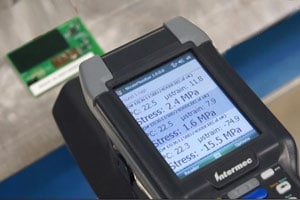 Custom Wireless RFID Strain Gage Options
Active (battery-powered) strain gages (strain gages) transmit hundreds of feet. Ultra-long-life batteries make them Practically Battery Free™.

Battery-Assisted strain data loggers store strain readings over time. Communication with the sensor is done with an RFID reader.

Energy harvesting strain sensors using solar cells provide long-range sensor transmissions with no battery to maintain.