By Scott Dalgleish, CEO of Phase IV Engineering
Picture hundreds of kids of all ages, from all over Colorado, descending on a downtown Denver college campus. And these kids may be wearing some crazy, creative costumes while moving elaborate props and backdrops in and out of different buildings. Along with the kids are their families, team managers, and other volunteers who help put this all together. This is the lively energy of a Destination Imagination (DI) affiliate tournament. Over this past weekend I had the distinct pleasure of attending the Colorado state (or affiliate) DI tournament to announce the winner of one of the Colorado Destination Imagination Continuing Education Scholarships.
Even though 150,000 kids from 28 countries participate in Destination Imagination, you may still be wondering exactly what it's all about. DI is a problem-solving and creativity competition for kids from kindergarten through university level. Teams work throughout the school year on a chosen challenge based in STEAM (Science, Technology, Engineering, Arts, Math) and present their solution at competitions. The challenges are specifically designed to teach kids creative, critical thinking and problem- solving skills, as well as the ability to think on their feet and learn from their failures.
Destination Imagination has been a family affair for me for 12 years now. My wife and I were team managers for our kids' teams for 8 years, and we have continued in other volunteer roles since then. I'm also proud that Phase IV Engineering is a sponsor of Destination Imagination Colorado. This past weekend was especially rewarding to be back at an in-person tournament and feel the creative energy in the air. One of the foundations of DI is that all the ideas the students present must be their own- absolutely no adult help. I am always amazed at the tremendously creative and innovative solutions they present in their skits. This season I watched a fine arts team that did all their own coding, a team in the scientific challenge  that created a working ghostbuster backpack out of recycled car parts and a breast pump, and an improv team that delivered a hilarious yet informative skit on a little well-known island festival while also delivering scalding social commentary.
Seeing the ingenuity at the tournament reminded me of why I used to always tell the kids on my team, "I can't wait to hire you!" That statement has only become more true over the years. Every day in my job as CEO of Phase IV, I see how the talents that DI teaches its students are skills that are critical to our success as an innovative company. These skills include:
Innovative thinking
Creative problem solving
Evaluating project specifications
Project management
Effective communication
Budget management
Building/assembly
Leadership and team building
These are qualities I didn't really learn with my electrical engineering degree, and skills I often have to teach to my new hires. But Destination Imagination is laying the foundation before these kids even graduate high school.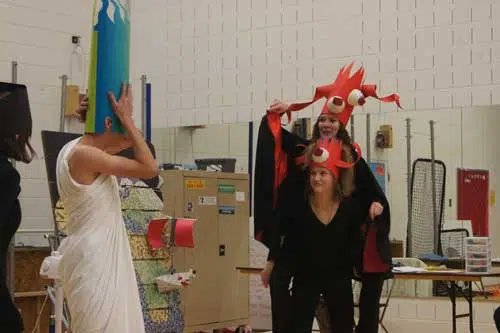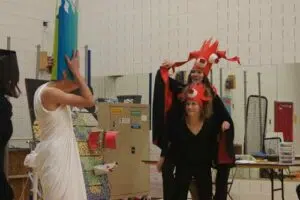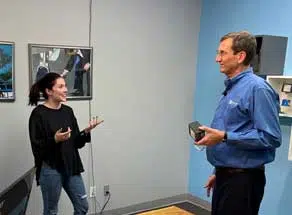 Caroline directing a video demo
Now, I have hired two former DI kids to working for me at Phase IV. When I asked these DI alumni how DI has impacted their lives and professional careers, Caroline told me, "DI is the single most important thing I ever did for myself. I became an independent, critical thinker much earlier on than my peers did because of DI and it gave me the confidence to take initiative with my ideas – especially my creativity – that I never would have learned in school." Eli also added, "The projects that we did in DI gave me a feel for what engineering was really like much sooner than other experiences, like high school Physics class. My DI experience and the work I'm doing at Phase IV has confirmed that I really want to do work where I need to find my own path to a solution."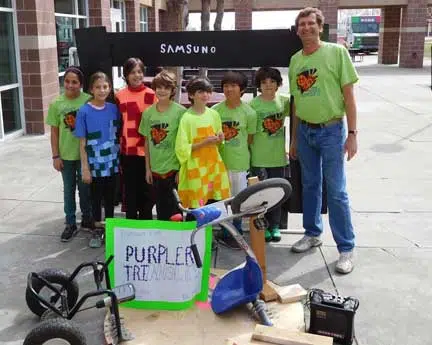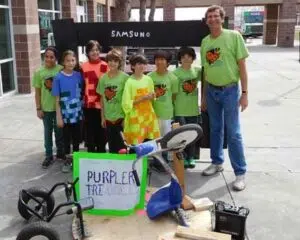 Eli with team "Purpler Triangles"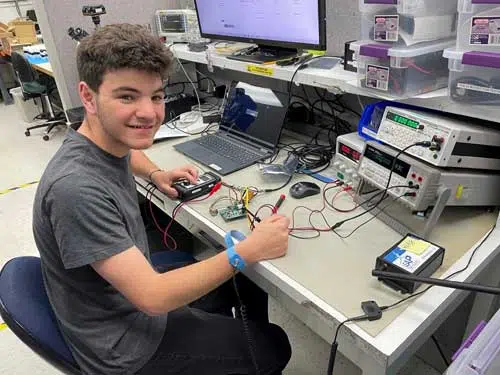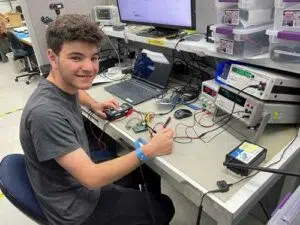 Eli working in assembly at Phase IV
Everyone who becomes involved with DI feels passionately about the program, as you can tell from these former DI students. I have been able to watch kids thrive in DI for over a decade now and could not have enjoyed it more. I invite all of you to have a chance to become involved in DI as well, as there are so many ways to do so: if you have kids in school who are interested in technology, science, theater, engineering, community service, encourage them to join a team; if you don't have kids, you can still volunteer to manage a team, volunteer at tournaments, or help sponsor a team. The list goes on. You can find out more about Destination Imagination here: https://www.destinationimagination.org and Destination Imagination Colorado here: https://www.dicolorado.com.