By Scott Dalgleish, CEO of Phase IV Engineering
At my 20th high school reunion, I received the award for "Still Driving the Same Car I Had in High School." This may sound ridiculous, but in my case this is something to be proud of. After all it's a classic muscle car, a 1971 Oldsmobile Cutlass 442 convertible. I bought it when it was considered "just an old car" with money I saved from my summer lawn mowing business. People tell me all the time, "I had a car like that and I kick myself for selling it."  I'm always glad I treated it like the equipment in the factories I worked in when I was a maintenance manager, repairing it to keep it running instead of selling it off as the years and miles accumulated.
The "442" refers to its four-barrel carburetor, four-speed transmission, and dual exhaust. All of these were exceptional high-end features in 1971. It also sports a fiberglass hood with functional hood scoops that add additional horsepower to the already impressive 455 cubic inch engine. Plus it's a convertible, which always makes a car that much cooler.
It is still a cool car at 50 years old, even with the extra miles and wear and tear. A couple of years ago, I started investing in some major upgrades for it, the first being disk brakes (yes, this beast originally relied on horrible manual drum brakes) and rebuilding the original engine. I also splurged on a completely revamped stereo system with a digital stereo and a bluetooth connection, although you would never know since it's hidden behind the original radio faceplate. Of course, I had to restore and keep that classic 8-track tape player, too.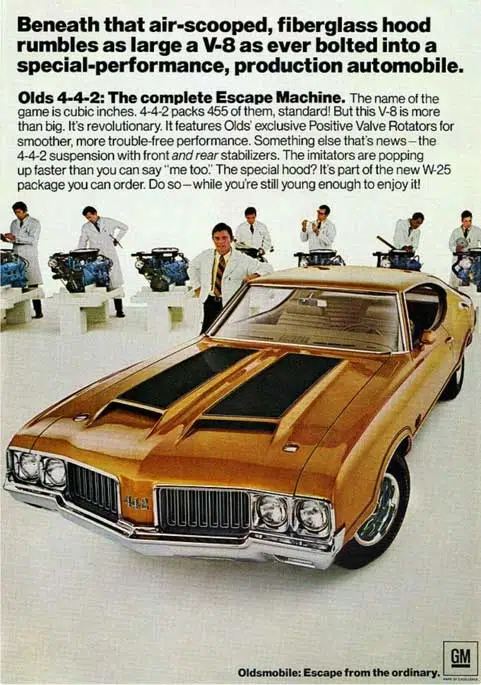 The Cutlass 442 was quite the machine back in the day.
Like the best of American autos, I know there is some incredibly well-built factory machinery still installed and getting the job done. There may be no reason to replace it, and it may be too expensive or irreplaceable, anyway. Sometimes a manufacturing company's success is based on a highly specialized machine, and it needs to be kept in service as long as possible. But that doesn't mean some upgrades wouldn't make things run more efficiently or safer. Our Leap Sensors system makes it easy to retrofit state-of-the-art monitoring onto legacy equipment. It features a wide range of sensors, multi-sensor transceiver nodes, and simple customization so that you can get a system that fits your specific monitoring needs. In addition, we offer the ability to integrate the Leap system with existing SCADA or PLC software, so there's no need to overhaul your entire system.
With summer convertible weather here, I drive my 442 almost every day. And almost every day, someone hollers at me, "I love your car!" I always yell back (with the Doobie Brothers 8-track playing in the background), "I do, too!"