Predictive maintenance is vital to keep equipment running at its peak at all times. In a variety of industries, using wireless sensors for motor condition monitoring helps minimize unplanned shutdowns and reduces the cost of maintenance.
Motors are the workhorses of manufacturing facilities, powering conveyors, pumps, blowers, fans, compressors, and more. Even one failed motor can impact an entire production line, with the possibility of huge losses in time and money. When a line goes down, workers sit idle and production deadlines get missed. It can also mean major expenses if an entire motor has to be replaced instead of just one part. This is where predictive maintenance and motor condition monitoring comes in.
Motor Condition Monitoring and Industry 4.0
Manufacturers have begun to use industrial sensor systems to monitor their equipment. A network of sensors can monitor a motor's actual conditions, establishing a baseline and then establishing parameters that may indicate a problem. Maintenance can then be scheduled for downtime, and before it becomes a bigger headache.
Often, however, these systems are expensive and complicated to install. Retrofitting wired sensors onto existing equipment can mean extra work and hassle to get them up and running, and it may not be possible to integrate them with existing PLC software. In addition, it's unweildy for all three types of sensors (temperature, vibration, amps) to be installed on one motor.
How Does Motor Condition Monitoring Work?
Motors actually just don't quit without warning. In most cases, there are indicators week or months before a motor fails – the trick is to monitor and detect them early enough.
There are three main indicators of impending motor failure:
Temperature – the motor will "run hotter" than normal.
Vibration – misalignment, imbalance, wear and tear, or a loose part can all cause the motor to vibrate more.
Electrical current – higher electrical draw can indicate an overload.
In the past, these checks have to be performed manually and with specialized equipment – often only quarterly or twice a year. In addition, some predictive maintenance programs may only monitor one or two of these indicators. This leaves room for human error and missed signals.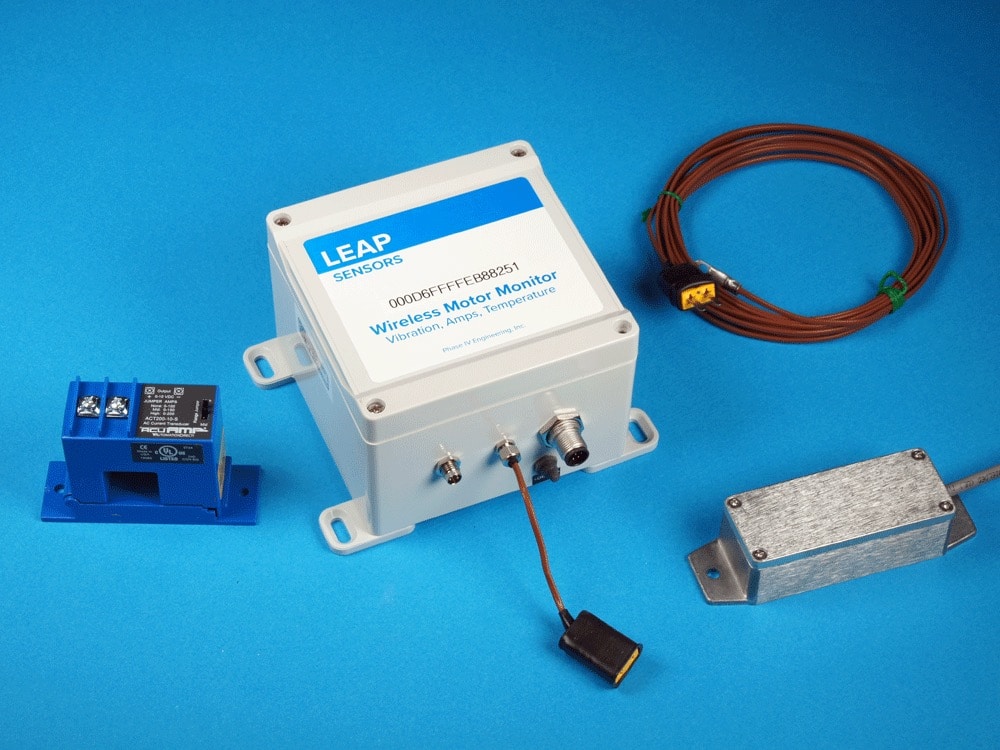 Wireless Motor Sensors by Phase IV's Leap Sensors®
Drawing on our background as a leader in IIoT (Industrial Internet of Things) solutions, we developed our wireless motor sensor as part of our breakthrough Leap Sensors system. It is the only sensor on the market to combine simple, continuous monitoring of all three of the main indicators of motor health (temperature, vibration, and electrical current draw) on one transceiver node.
Completely wireless, this compact yet powerful system is easy to retrofit onto existing equipment: the temperature sensor and vibration sensor (accelerometer) attach to a motor or gearbox, while the current sensor installs with a split-core amp clamp.
The sensors transmit over-the-air via a gateway – all optimized for a "signal-noisy" industrial environment – and can be integrated with existing software or PLC, or Phase IV's own cloud-based software. Users can choose to receive alerts via text, email, or phone call for easy off-site monitoring.
Case Study: Motor Sensors for Predictive Maintenance Save Time, Headaches, and $100,000
One of our clients, a Fortune 500 logistics company, installed a Leap motor sensor system on their conveyor line. Within a few weeks, one of the sensors sent an alert about rising temperature and vibration on a motor. Technicians checked the motor and found that part of the belt guard had worked itself loose, causing the motor to overheat and shake. They were able to schedule a repair for when the line wasn't running.
If this motor had failed during a shift, the line would have to be stopped for a complete replacement. Because of the time-sensitive nature of our client's business, unplanned downtimes are not only expensive but can impact customer satisfaction. Thanks to Leap Sensors, the company estimates they saved approximately $100,000 – and the priceless goodwill and trust of their customers.
Like X-Ray Vision Combined with a Crystal Ball™
Motor sensors help our clients "look" inside their key equipment to gain insight on optimal functionality and predict failure so steps can be taken before it occurs. With the potential savings to companies of several thousand dollars, the system quickly pays for itself – our clients often report an ROI within 3 months. Contact us to find out how easy it is to set up a Leap Sensors motor monitor system.