Custom Sensors & Engineering Design
Can't find your wireless sensor solution? You've come to the right place. We invented RFID sensors in 1992, and since then we've worked with clients world-wide to apply the most advanced and effective wireless sensor solutions. Whether you need RFID sensors or Battery-assisted passive sensors, multi-sensor or data loggers, we've worked with them all – we'll help you find the right solution for YOUR needs.
Specialized RFID & Wireless Sensor Solutions to Give You the Cutting Edge
We Welcome Tough Sensing Problems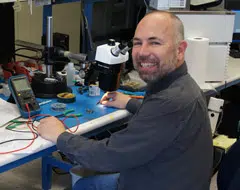 "Where else do you get to come to work and do things that have never been done before?" Joe Letkomiller, Senior Engineer
Contact Us
Talk to an Expert
Questions about Phase IV Engineering's RFID & wireless sensor technology? Need a quote for a specialized wireless sensor solution? Talk to one of our wireless sensing experts today.
Contact Us