About Low Frequency (LF) RFID Wireless Sensors
Ideal for reading through liquids or solid materials – including composites such as carbon fiber
LF RFID Wireless Temperature Sensor Transmitting through Carbon Fiber Demo Video
About the "SensIC" Low Frequency (LF) Passive RFID Wireless Sensor
 Examples of  Low Frequency (LF) Passive RFID Wireless Sensors
Embedded Carbon Fiber Sensor (Temperature, Vacuum, Pressure)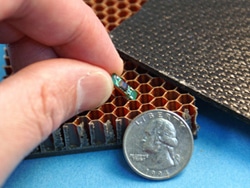 LF RFID sensors can be so small that they can fit in the honeycomb cells of a composite structure. Since they are battery-free, they can operate for decades. The low-frequency magnetic waves travel right through the carbon fiber so the embedded sensor can be read. Watch our Demo Video & Learn More.
Rugged Battery-Free Tire Pressure and Temperature Monitoring System (TPMS)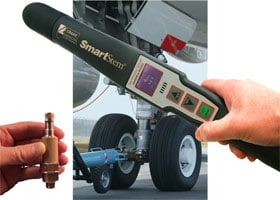 Cow Bolus – Dairy Cow Health Fever Monitoring System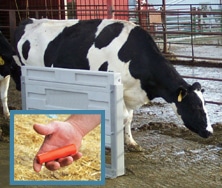 Our unique battery-free RFID cow temperature bolus tracks a cow's temperature for early detection of fever. The low frequency magnetic waves travel through the cow's tissue with very little effect on the radio waves. See more information on our Animal Health & Identification page and our data sheet.
The World's Smallest Wireless Temperature Sensor (Using LF RFID)
Ideal for monitoring the internal temperature of small objects. The small mass of the sensor has minimal effect on the heating of the object being monitored.
As featured in Food Engineering journal, "The Fantastic Voyage of a Temperature Probe" , featuring a partnership between Phase IV and Campbell's Soup.
More details on our data sheet.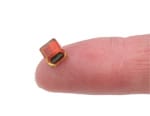 Contact Us
Talk to an Expert
Questions about Phase IV Engineering's wireless sensor technology? Need a quote for a wireless sensor solution? Talk to one of our wireless sensing experts today.
Contact Us