About RFID Temperature & Pressure Wireless Data Loggers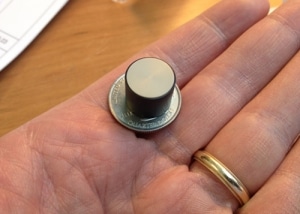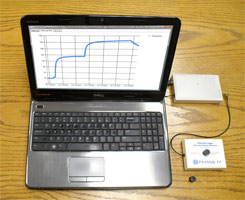 The Micro-T Miniature Data Logger
RFID interface means no batteries are needed for the wireless communication. Data is wirelessly transferred to an RFID reader, so no bulky connectors.
No connectors allow the data logger to be very small, making it usable in environments that requires an ultra-small or ultra-thin data logger.
Our Micro-T data logger is sealed in FDA approved plastic. Ideal for use in food processing.
Rated to operate up to 1200 PSI. Can be customized to operate up to 10,000 PSI.
Most of our data loggers are rated to operate at extremely high temperatures – ideal for food processing.
Low density & small size allows the data logger to emulate food particles during cooking process. Low thermal mass means the data logger won't influence the heating & cooling of the object being monitored.
High or low sampling intervals. Measure: temperature, pressure, vibration, rotation, acceleration.
If you need a specialized data logger, we can probably adapt an existing design to your needs. The Micro-T utilizes an on-board micro processor with several inputs for sensors and several outputs for LED and other indicators.
Contact Us
Talk to an Expert
Questions about Phase IV Engineering's RFID & wireless sensor technology? Need a quote for a specialized wireless sensor solution? Talk to one of our wireless sensing experts today.
Contact Us
The Ultra-THIN Micro-T RFID Temperature Data Logger – with Miniature Tethered Temperature Sensor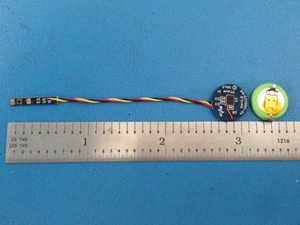 Features of the Ultra-thin Micro-T
Wires are 2.0 inches long.

Circuit board:  0.5 inch diameter.  0.093 inch maximum thickness  (including components on both sides).

Battery:  0.5 inch diameter, 0.125 inch maximum thickness, including welded tabs on battery.

Sensor Board:  0.6 inches long, 0.1 inches wide, 0.025 inch board thickness, 0.045 inch total thickness at the temperature sensor.

Wire bundle:  0.040 inch diameter bundle thickness.