About UHF EPC RFID Wireless Data Loggers – Long-range Transmission
UHF RFID Wireless Temperature Data Logger Demo Video
About UHF EPC RFID Wireless Data Loggers
Available in a wide variety of sizes and shapes. See examples below.

Custom Metal Mount data loggers available with specially designed "mount on metal" sensor antennas.

"Tethered temperature sensors" allow the measurement of extreme temperatures.

Long read ranges up to 15 feet.

Read with several standard RFID readers such as ThingMagic and Intermec EPC readers.

Data logger transmits a unique ID with each sensor reading.
See details and specifications on the data sheet.
Contact Us
Talk to an Expert
Questions about Phase IV Engineering's RFID & wireless sensor technology? Need a quote for a specialized wireless sensor solution? Talk to one of our wireless sensing experts today.
Contact Us
Examples of UHF RFID Temperature Data Loggers
Credit Card Format RFID Wireless Temperature Sensor & Data Logger
Our standard format – a credit card sized UHF RFID temperature sensor and data logger.
Dual-Tethered High Temperature RFID Wireless Data Logger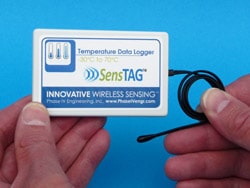 Tethered temperature sensors can be used to measure temperature extremes.
Multi-Sensor UHF RFID Wireless Data Logger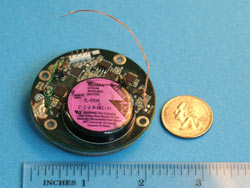 This extremely versatile data logger can be configured to measure and store time-stamped data from a variety of sensors – for example, thermocouple, capacitive liquid level, and 3-axis accelerometer. Let us customize this sensor to your unique data logging requirements.