About RFID Wireless Data Loggers  
RFID Wireless Data Logger Demo Video
About RFID Wireless Data Loggers
We offer several data loggers with a wireless interface:
HF and NFC Data Loggers – Phase IV's Micro-T – the latest in RFID data loggers that are miniature, high temperature, high pressure, and low density.

Active Transmitter Data Loggers – including Phase IV's retort canning rotation and temperature data logger.  

Contact us

for more information.
Learn more about the advantages & disadvantages of the different technologies below.
Contact Us
Talk to an Expert
Questions about Phase IV Engineering's RFID & wireless sensor technology? Need a quote for a specialized wireless sensor solution? Talk to one of our wireless sensing experts today.
Contact Us
Featured Product: the Micro-T RFID Temperature & Pressure Data Logger 
As seen in the demo video above.
World's smallest data logger – RFID interface eliminates bulky batteries.

FDA-Approved plastic enclosure – ideal for use in food processing.

NFC interface (coming soon) – transmit data to a smart phone.

High pressure & high temperature tolerant.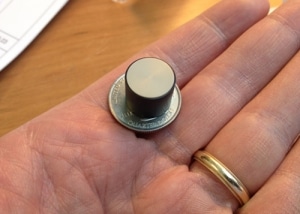 about the Micro-T RFID temperature & pressure data logger
The Micro-T RFID Data Logger is available in our store. Get our Starter Kit for 20% off.
RFID Battery Powered Data Logger Technology – Advantages & Disadvantages
Advantages of RFID Data Loggers
Disadvantages of RFID Data Loggers