About Temperature & Specialty UHF RFID Wireless Sensors
Long-Range UHF RFID Temperature Sensor Demo Video
About Temperature & Specialty UHF RFID Sensors
Available in a wide variety of sizes and shapes. See examples below.

Metal Mount tags available with specially designed "mount on metal" sensor antennas.

"Tethered temperature sensors" allow the measurement of extreme temperatures.

Long read ranges –  up to 15 feet.

A wide variety of form factors available.

Read with several standard RFID readers such as ThingMagic and Intermec EPC readers.

Sensor transmits a unique ID with each sensor reading.

Multiple tags can be read by one reader, even if they are all "in the radio field" at the same time.
Contact Us
Talk to an Expert
Questions about Phase IV Engineering's RFID & wireless sensor technology? Need a quote for a specialized wireless sensor solution? Talk to one of our wireless sensing experts today.
Contact Us
Examples of Battery-Free UHF RFID Temperature Sensors
Passive RFID Temperature Sensor – Credit Card Format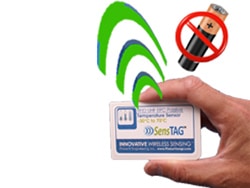 Our standard format for UHF RFID temperature sensors.
Dual-Tethered High Temperature RFID Wireless Sensor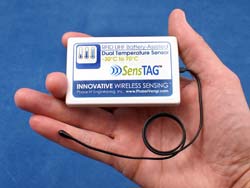 Tethered temperature sensors can be used to measure extreme temperature by separating the sensor and the transmitter.
Metal-Mount RFID Temperature Sensor for Power Utility Equipment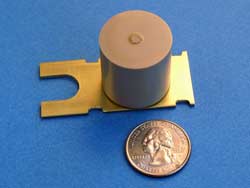 Ideal or mounting on bus bars, switches, and other high voltage equipment that needs a maintenance-free temperature sensor.
Voltage (AC or DC) + Temperature RFID Wireless Sensor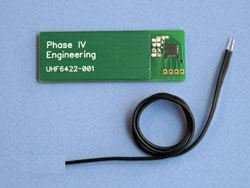 RFID tags with voltage inputs can be used to connect to many other sensors, such as temperature.
Coming soon.  Contact us for more information.
Food Probe with RFID Wireless Temperature Sensor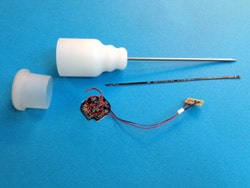 Battery-free food probes can be read with many standard RFID readers. Easily monitor quality and consistency.
Embedded Metal-Mount Moisture + Temperature Sensor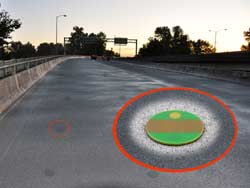 For bridge decks & roadbeds – wireless temperature and humidity RFID sensor is optimized for structural health monitoring (SHM) of bridges. Fast and easy collection of data means potential problems can be detected early.
Distributed by our partner, Bridge Preservation Inc.
 Cryogenic RFID Sensor – Ultra-Low Temperature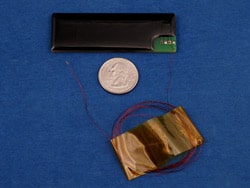 Designed for NORCAT to be incorporated into the next moon probe. Temperature range of -175C to +20C.
Flex-Circuit Metal-Mount RFID Resistance + Temperature Sensor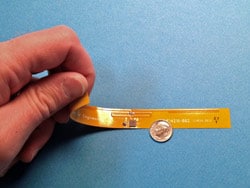 Monitor a change in resistance and temperature of a thin materials. Our ultra-thin flex-circuits make it possible to monitor in unusual or hard-to-reach applications
Rugged Metal-Mount RFID Temperature Sensor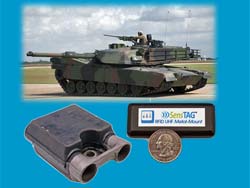 Used by the US Army for tank tread testing. Proof our sensors can handle extreme conditions!