Custom Solutions Based on Our Wireless Active Sensors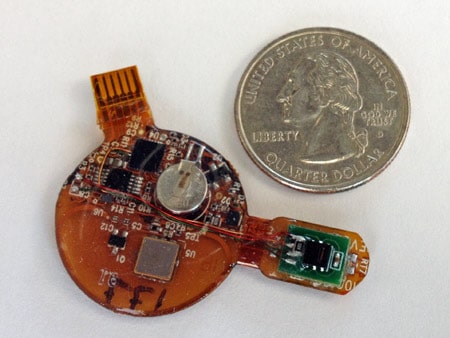 Advantages of Custom Wireless Active Sensors
Several sensor technology platforms available – your custom sensor is an adaptation of a proven design.

Available in a wide variety of sizes and shapes. See examples below.

Multiple radio frequencies available including 433 MHz, 868 MHz, 915 MHz, and 2.4 GHz.

Battery life of many years make these sensors Practically Battery Free™.

"Tethered temperature sensors" allow the measurement of extreme temperatures.

Sensor transmissions include sensor ID and time stamp.

Long read ranges up to 1500 feet.

A wide variety of receiver connectivity including:  USB, Ethernet, WiFi, RS232, Iridium satellite modem, and others.

Ideal for harsh environments.
Contact Us
Talk to an Expert
Questions about Phase IV Engineering's RFID & wireless sensor technology? Need a quote for a specialized wireless sensor solution? Talk to one of our wireless sensing experts today.
Contact Us
Looking for an off-the-shelf active sensor that's ready to go?  See our Phase IV Wireless Sensor Network (WSN) product family.
Examples of Custom Wireless Active Sensors
"HEATT" Active 915 MHz Frequency-Hopping Sensor Network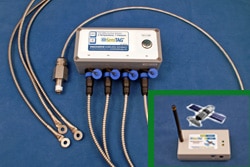 This Phase IV long-range, long-life active sensors was custom-developed to monitor substation equipment for over-heating conditions.

Long Range – 1500+ feet transmission range.

Long Battery life – 5 to 10 years when transmitting every 15 minutes.

Frequency hopping makes the transmissions more immune to radio interference.

915 / 868 MHz band.

Receiver Connectivity:  USB or Iridium satellite modem.

Multiple sensor inputs and types are supported including thermocouple and pressure.

More details on our Data Sheet
Temperature and Humidity Skin Patch Wireless Sensor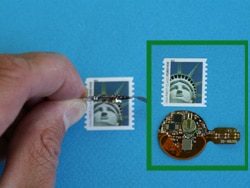 Ultra small and thin – 1 inch in diameter.

Flexible – flex-circuit board.

Dual Temperature Sensors – on top or bottom of patch.

Humidity + Temperature version.

High Accuracy of 0.2°F.

Medium range – 20 to 50 feet.

Battery life of a few months when transmitting every 10 minutes.

USB or WiFi receiver. 
Miniature 433 MHz Wireless Sensor System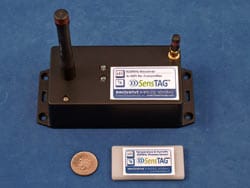 Ideal for medium range sensor transmissions when a small, custom sensor is required. Available with USB or WiFi receiver. Transmission range of ~300 feet in open air.
More details on our Data Sheet.
Electrical Power Distribution Wireless Sensors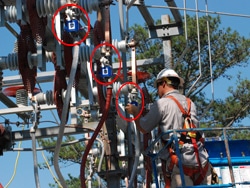 Monitor power lines, switch gear, lighting arresters, transformers, and other equipment. Equipment typically heats-up for several months before it fails. Temperature sensors give ample warning to schedule maintenance and avoid an unplanned outage. Long battery life makes these sensors Practically Battery Free™ .
High Sampling Rate (10+ Hz) 2.4 GHz Wireless Sensor System – Coming Soon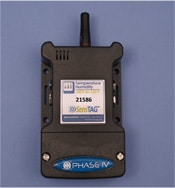 This sensor system is ideal when high sampling rates are required. Temperature, pressure, strain, vibration, and more.
Why use Phase IV Engineering for your custom sensor design? Find out how we leverage 20+ years of experience to help you solve your toughest sensing problems.