About Bluetooth Low Energy (BLE) Wireless Active Sensors (Battery-Powered)
Bluetooth Low Energy / Bluetooth Smart Wireless Sensor with iPhone Interface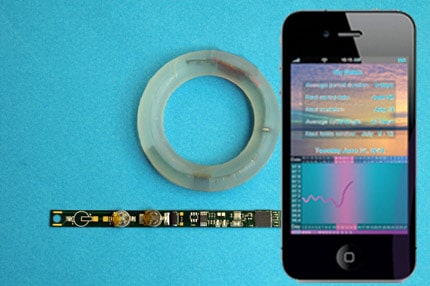 About Bluetooth Low Energy (BLE) Wireless Active Sensors
Connect directly with iPhones and other mobile devices and PCs that support Bluetooth Low Energy (also known as Bluetooth Smart and Bluetooth 4.0).

Ideal for personal wireless sensing – where the smart phone acts as the "always with you" receiver and Graphical User Interface.

BLE protocol is optimal for Internet of Things monitoring – where the system is relies on short bursts of small data packets.

BLE devices are much easier to connect than standard Bluetooth. No more frustration trying to connect.

Sensors can be ultra-small, using coin cell batteries.

Patented BLE OvuRing Technology – US Issued Patent No. 8715204.
Need an off-the-shelf battery-powered active sensor system that's ready to go?  See our Wireless Sensor Network (WSN) product family.
OvuRing for PrimaTemp – Phase IV's Patented Bluetooth Low Energy Breakthrough
Phase IV is working closely with PrimaTemp to develop the OvuRing – a breakthrough in human ovulation monitoring. The simple and inexpensive system consists of a continuous, wireless, core temperature sensor and App for want-to-be moms. Learn more at the 
PrimaTemp web site
.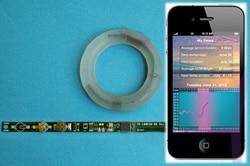 Phase IV / Prima-Temp Bluetooth Low Energy (BLE) Awards and Recognition
Contact Us
Talk to an Expert
Questions about Phase IV Engineering's RFID & wireless sensor technology? Need a quote for a specialized wireless sensor solution? Talk to one of our wireless sensing experts today.
Contact Us