Wireless Temperature Sensors for Commercial Refrigerators and Freezers
Case Study: Remote Refrigeration Temperature Monitoring with Phase IV's Wireless Sensor Network in a Restaurant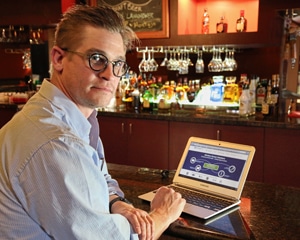 The Problem
Hal's Landing restaurant has multiple freezers and refrigerators, including walk-ins. Maintenance is a constant effort, and slow reaction to equipment downtime could have a real cost. Hal's Landing Operations Manager Kevin Courser says, "We needed the wireless sensors so we could be more proactive with refrigerators and air conditioner maintenance."

They also wanted a hassle-free temperature log for following HAACP procedures and health code compliance.

Courser adds, "If the room temperature of our bar is not correct, it could cost us thousands in sales for a given night. People will leave. We wanted to see if it was possible to remotely monitor our HVAC system and be able to quickly troubleshoot it."

They wanted remote temperature sensors that utilized the latest technology and that could be flexible enough to change or upgrade as their needs changed.
The Solution
The restaurant ordered a WSN Starter Kit that would give them enough wireless temperature sensors to start monitoring their main restaurant refrigerators, freezers and walk-ins, with the option to add more as needed.

Phase IV Engineering used their custom engineering expertise to modify an existing temperature sensor to work in the HVAC ducts at Hal's Landing so they can receive notifications if the system doesn't run at an optimal temperature range, ensuring customer satisfaction.

Phase IV's SensorManager.com software gives them the capability to monitor their walk-in freezers and refrigerators, providing a text alert if something goes wrong. "We were able to completely configure the alerts in the way that worked best for us – and we can easily change it if we want to adjust the parameters."

Plus, the SensorManager.com software keeps an accurate and easily accessible refrigerator temperature log for health code inspections.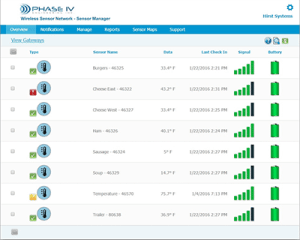 Installing the Wireless Sensor Network took only 5-10 minutes to be up and running. There was no need to run wires through conduit or hire IT experts.

Hal's Landing particularly appreciates how flexible the wireless temperature sensor system is, with capability to monitor up to 100 sensors. "We can add sensors for humidity, for open doors – almost anything we think we need to monitor, we can," says Courser.

The restaurant has been able to fine-tune the air temperature of the bar and restaurant itself, resulting in happier customers who linger longer and spend more per table.
Case Study: Temperature Monitoring for Refrigerated Cases and Walk-in Coolers with Phase IV's Wireless Sensor Network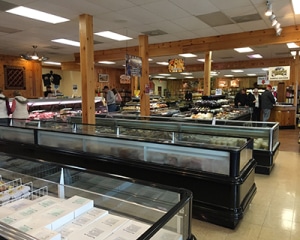 The Problem
Stoltzfus Meats & Deli is a 60-year-old family-run company, one of the largest and most celebrated meat processors and bakeries in Pennsylvania Dutch Country. With up to a thousand daily customers coming to visit their retail deli, bakery and restaurant, maintaining proper temperature in the deli cases and walk-in coolers is crucial
The Solution
Phase IV's WSN System was a simple and effective solution for Stoltzfus Meats. They quickly and easily installed wireless temperature sensors in each of their deli cases as well as their walk-in coolers.

Besides receiving alerts when the temperature in a case becomes too high, Soltzfus meats is able to use the SensorManager.com tracking software to look for problems in the day-to-day functions of their equipment and spot opportunities for more efficient functioning.
The Benefits
While Stoltzfus Meats may trace their roots to traditional Amish recipes & methods, they work to constantly expand and innovate their business. "One thing we learned and abide by is the belief that if you are going to do something new or different, you had better be very serious about it. We call it 'The Stoltzfus Way' and tolerate no excuse for not getting it understood and followed," says company president Myron Stoltzfus1. Phase IV knew their system was ready for Stoltzfus' high standards.

With such a busy operation, having a fast, easy installation process was vital. Stoltzfus appreciated how the sensors were pre-configured to their SensorManager.com account so they were ready to track and report as soon as they were activated.

Stoltzfus Meats & Deli says that the temperature data loggers and WSN system exceeded their expectations to be low-cost, effective, simple, and most of all, reliable. "We received an alert when a freezer wasn't functioning properly," says Scott Hirst of Hirst Systems, who consulted with Stoltzfus on the project. "We were able to quickly fix the problem, saving close to $2,000 in products. That more than paid for the cost of the system right there."
Contact Us
Talk to an Expert
Questions about Phase IV Engineering's RFID & wireless sensor technology? Need a quote for a specialized wireless sensor solution? Talk to one of our wireless sensing experts today.
Contact Us
Wireless Temperature Sensor Networks for Commercial Refrigerators/Freezers Demo
Skip ahead to these video segments:
1:53 EASY INSTALLATION of the WSN temperature sensor
2:43 FLEXIBILITY of the WSN temperature datalogger
4:11 Using SENSOR MANAGER software for tracking temperatures
6:29 Demonstration of POWERFUL remote alert (alarm system)
7:34 How the alert system gives REAL TIME notifications
8:21 Client testimonials
About Wireless Sensor Networks for Temperature Monitoring in Refrigerators and Freezers
Temperature data loggers offer convenient monitoring & data tracking – receive alerts via text, email or phone.

Avoid costly spoilage loss in your walk-in refrigerators & freezers, deli cases, or cold storage rooms – monitor crucial temperature readings & receive alerts before a failure occurs.

Easy to install, even for a "non-tech-type person" – be up and running in less than 10 minutes.

Vial filled with food-safe propylene gycol meets CDC refrigeration guidelines.

Rugged, industrial-grade case – able to withstand a high-use environment.

Monitor more than just temperature – a wide variety of sensors available for your particular needs.

Analyzing data is easy with our SensorManager tracking software – Real-time graphs. Data easily downloads to spreadsheets.
Contact Us
Talk to an Expert
Questions about Phase IV Engineering's RFID & wireless sensor technology? Need a quote for a specialized wireless sensor solution? Talk to one of our wireless sensing experts today.
Contact Us
1Pennsylvania Meat Processors Newsletter, Vol. 3, Iss. 3, May-June 2016