RFID Sensor Reader
Phase IV's Game Changing RFID Sensor Reader
In the last few years, advances in RFID sensor technology and the explosion of interest in the Internet of Things (IoT) has seen UHF RFID Sensing poised to become a mainstream sensing system.  RFID Sensing has unique features that make it ideal for certain industrial wireless sensing applications, and the last barrier to widespread adoption has been on the reader side of the RFID system.  Phase IV has now removed this barrier with it's patent-pending RFID Sensor Reader.
Why an RFID Sensor Reader?
RFID began as an identification technology and traditional RFID readers are designed for the narrowly focused use of transmitting ID data.  Because of this narrow focus, all RFID readers are designed to output digital data to transmit to a computer.  With the advent of RFID sensing, readers have been able to only output digital sensor data, but in industrial environments sensors were traditionally interfaced to a control system such as an industrial Programmable Logic Controller (PLC) that uses an analog input.  For example, the most common industrial sensor signal sends an electrical current through a wire that correlates to a temperature reading using an analog 4 to 20 milliamp sensor signal.
Phase IV's RFID Sensor Reader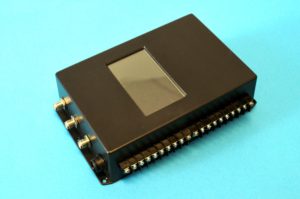 To bring battery free RFID sensing to industrial IoT applications, the RFID Sensor Reader has many patent-pending features that allow it to be quickly integrated into industrial control systems.
Proven Embedded RFID modules from Thingmagic.
On-board interface computer that can be factory programmed with just about every type of Input and Output imaginable.
Modular design so the RFID Sensor Reader can be adapted to your application without needing to design new electronic hardware.
Multiple I/O blocks that can output standard industrial control signals that include 4-20mA, 0-5V, Ethernet, USB, industrial fiber optic cable, and RS232 / RS485.
Easily interface the RFID reader to IoT systems, internal networks, or cloud databases using standard Ethernet, Cellular Modem, Satellite, etc.
Options for on-board OLED display and keyboard to make configuration and verification simple.
Award Winning Technology
Our RFID Sensor Reader was co-winner of Best New Product at the 2016 RFID Journal Live! trade show in Orlando, Florida.  There is general agreement by RFID professionals that RFID sensing is poised for a tremendous expansion in industrial IoT applications and the Phase IV Sensor Reader is the right product at the right time to enable this expansion.
Continuing Innovation in Wireless Sensing
As part of Phase IV's Connected Sensing Initiative, we continue to develop revolutionary new products to connect your sensors to your information and control systems where this data adds value to your business.  CONTACT US for more information.