About  Wireless, Battery-Free Strain Gauges (Strain Gages)
The Latest Advance in Structural Health Monitoring (SHM)
UHF RFID Passive Wireless Strain Gauge Demo Video
Chapters in this Video – Click in the video to move through the chapters
Strain Sensor Tutorial
RFID Strain Gauge Theory of Operation (1:20)
Demonstration: Reading Strain and Temperature (3:23)
On-Site Zero-Offset Calibration Demonstration (6:25)
New High-Value Combination of RFID and Strain Sensing (7:49)
About UHF RFID Battery-Free & Wireless Strain Gauges
RFID strain gauge sensors need no wires or batteries = no maintenance and long life.

Can be

read through materials that typically cover structural components, with read range up to several meters on a metal-mount sensor – ideal for smart bridge applications and Structural Health Monitoring.

Strain resolution better than 15 u-strain using a standard +/-1000 u-strain sensor.
Sensors can be installed & calibrated on-site.
Use on-board temperature sensor for strain gauge temperature compensation, if needed.
Data-logging capability – track and compare for predictive maintenance.
Each wireless strain gauge sensor has a unique ID# so that many sensors can be read by one reader at the same time.
Patents pending.
Quickly & easily monitor with a standard RFID reader – standard RFID protocol.
More details on our Data Sheet
Purchase Now
Save 20% with our RFID Strain Gauge Starter Kit.
Contact Us
Talk to an Expert
Questions about Phase IV Engineering's RFID & wireless sensor technology? Need a quote for a specialized wireless sensor solution? Talk to one of our wireless sensing experts today.
Contact Us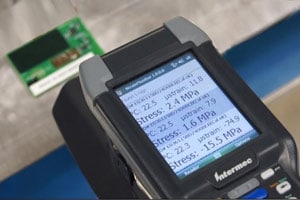 Custom Wireless RFID Strain Gauge Options
Active (battery-powered) strain gauges (strain gages) transmit hundreds of feet. Ultra-long-life batteries make them Practically Battery Free™.
Battery-Assisted strain data loggers store strain readings over time. Communication with the sensor is done with an RFID reader.
Energy harvesting strain sensors using solar cells provide long-range sensor transmissions with no battery to maintain.